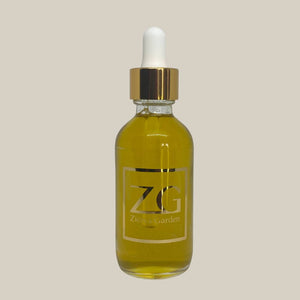 Zion's Garden Liquid Gold Oil can be used in a variety of ways from weekly hot oil treatments to daily styling. 
Promotes hair growth
Antibacterial properties 
Anti fungal properties
Helps fight itchy scalp
Helps fight with dandruff
Good for scalp infections 
Thickens hair

Helps with bald spots

Has been known to improve skin

Ingredients:
Olive Oil, Coconut Oil, Grapeseed Oil, Jamaican Black Castor Oil, Hempseed Oil, Tea Tree Oil, Jojoba Oil, Peppermint Oil.
DISCLAIMER
Zion's Garden natural hair products are formulated with care using high-quality, natural ingredients. While we strive to provide effective and safe hair care solutions, individual results may vary. Our products are not intended to diagnose, cure, or prevent any medical conditions. Please read and follow all product instructions carefully, and perform a patch test if you have sensitive skin or known allergies. Consult a qualified professional for personalized hair care advice. Zion's Garden shall not be liable for any adverse reactions or outcomes resulting from the use or misuse of our products. Your satisfaction and safety are important to us, and we encourage responsible and informed use of our natural hair care products.